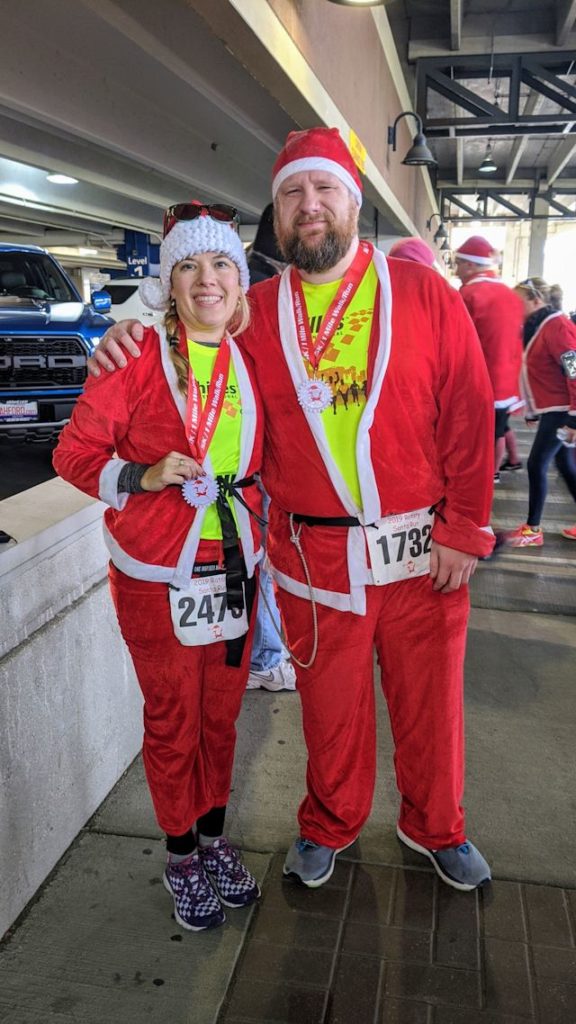 During one of my races last year, Rob mentioned the Santa Rotary Run. As I planned my 2019 schedule, it was how I wanted to end my year.
After doing packet pickup Saturday morning, we hung out and then did a brief warm up. While we tried to seed ourselves ahead of all the walkers/strollers, we didn't succeed. As a result, we ran faster than the planned pace during the first quarter mile to get around traffic.
Once we cleared the big throngs of walkers, we were able to settle into a good pace. There were a couple of spots before the aid station (halfway point) where I wanted to walk. But because of Natalie's help with pacing and breathing, I was able to push through. I was able to 'reset' at the aid station and refocused on the second half.
Typically by this point in a 5K, I'm headed towards a walk/run finish. It will start out decently (say 6/1) and slowly decline as we head towards the finish. In this race, because of her help, I didn't really have to walk until about 2.5mi. After that point, I was able to run for about a half mile, walk for 30 seconds, and then finish strong.
This was an amazingly fun race and a great way to end the 2019 season! I will have much more to say about the season as a whole in the next blog. Thanks to Natalie for guiding for me, and to Achilles Chicago for all their support!